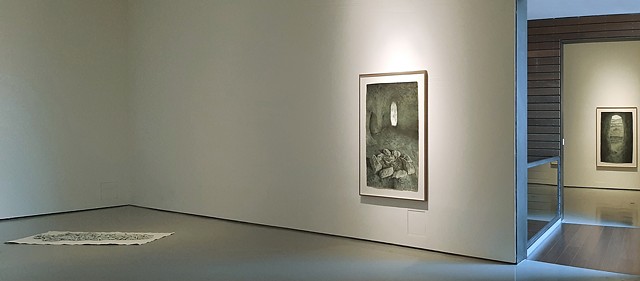 El tejido del mundo specific project Julián Valle
Planta +1 CAB Burgos.2021.
+info
interview




Visible and mobile, my body is a thing among things; it is one of them. It is caught in the fabric of the world, and its cohesion is that of a thing. But because it sees and moves itself, it holds things in a circle around itself. Things are an annex or prolongation of my body; they are incrusted in its flesh, they are part of its full definition; the world is made of the very stuff of the body.




Visible et mobile, mon corps est au nombre des choses, il est l'une d'elles, il est pris dans le tissu du monde et sa cohésion est celle d'une chose. Mais puisqu'il se meut, il tient les choses en cercle autour de soi, elles sont une annexe ou un prolongement de lui-même, elles sont incrustées dans sa chair, elles font partie de sa définition pleine et le monde est fait de l'étoffe même du corps.




Visible y móvil, mi cuerpo se cuenta entre las cosas, es una de ellas, está prendido en el tejido del mundo, y su cohesión es la de una cosa. Pero, puesto que ve y se mueve, tiene a las cosas en círculo en torno a sí, ellas son un anexo o una prolongación de él, están incrustadas en su carne, forman parte de su definición plena, y el mundo está hecho de la pasta misma del cuerpo.
L'Œil et l'Esprit.Maurice Merleau-Ponty